A World-class Marina
D–Marin Portonovi
D-Marin Portonovi
Set sail into a new adventure
Experience D-Marin network through our 238-berth high-end marina
With capacity to accommodate yachts and superyachts of up to 120m and a sheltered location inside the tranquil Boka Bay, Portonovi is the perfect starting point from which to explore the unspoiled Adriatic coast.
Book a berth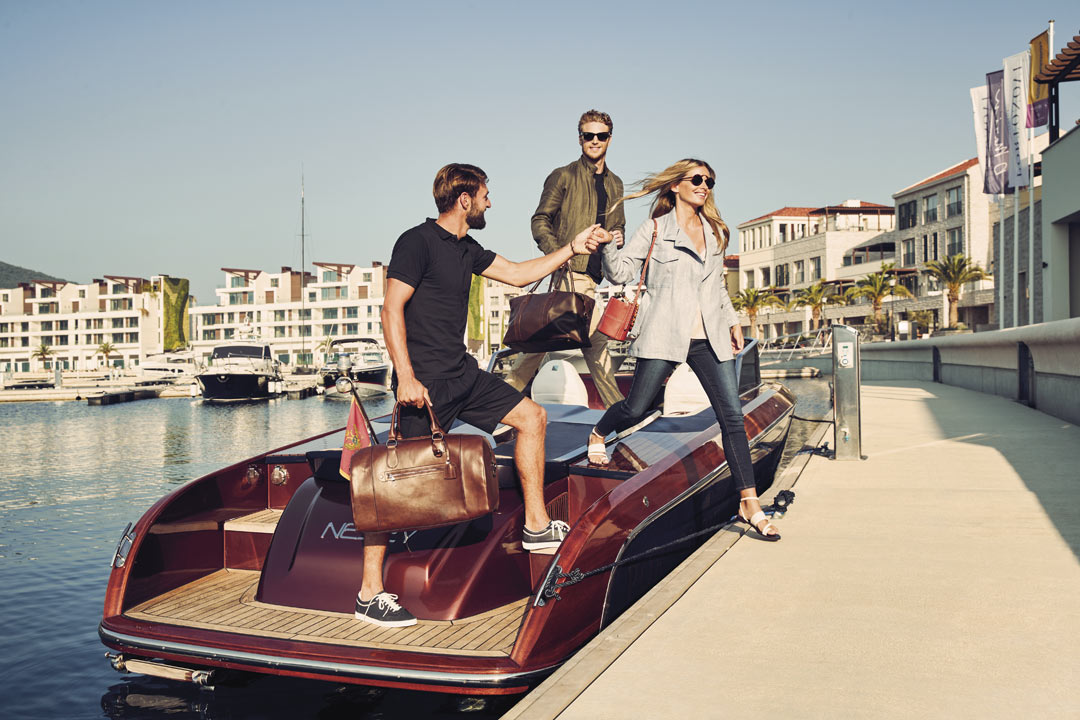 D-Marin Portonovi
Arrive in Style
From the moment you step ashore, the D-Marin Portonovi team will take care of all of your needs. Alongside the highest yachting standards that a marina can offer, you will enjoy exceptional amenities and services including a beach club, bars, restaurants, galleries, shops and more. As our loyal client, you will access many exclusive benefits such as the well-known D-Marin Happy Berth Day campaign and Marina Loyalty Card.
D-Marin Portonovi
A Protected Location
Discover an idyllic waterfront retreat on unspoilt Boka Bay, a UNESCO World Heritage Site.
D-Marin Portonovi is located in Herceg Novi, at the very entrance to Boka Bay, where the turquoise Adriatic Sea meets the mighty mountains of Montenegro. The unique style and temperament of the marina harmonizes it with the surrounding Mediterranean homes. The marina is a part of the exclusive resort Portonovi.
EUROPEAN DESTINATIONS IN NAUTICAL DISTANCES
Dubrovnik — 32
Split — 145
Corfu — 190
Venice — 350
Athens — 395
Bodrum — 645
Didim — 650
Porto Cervon — 710
Istanbul — 830
Cote D' Azure — 890
Mallorca — 1005
Barcelona — 1050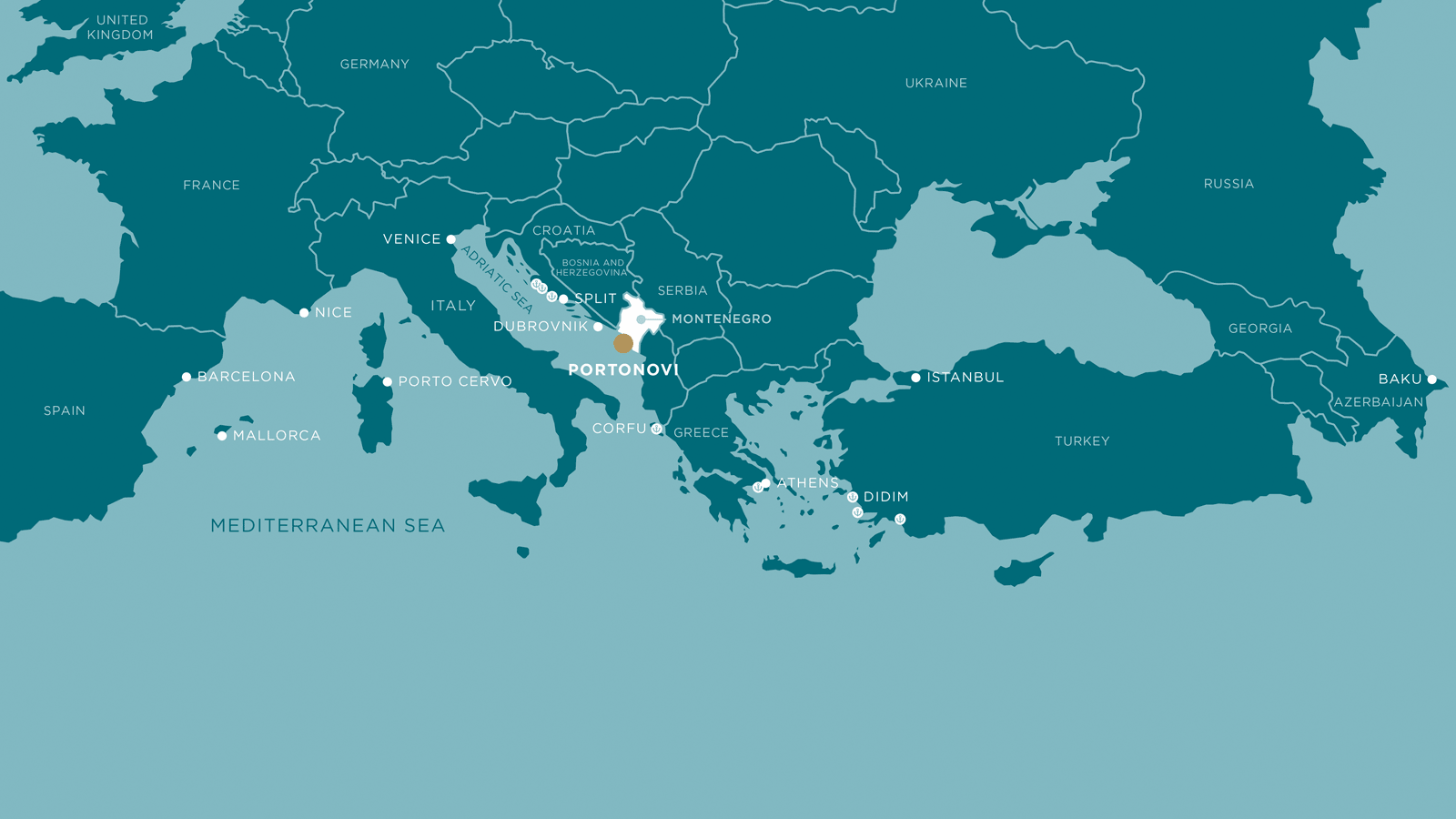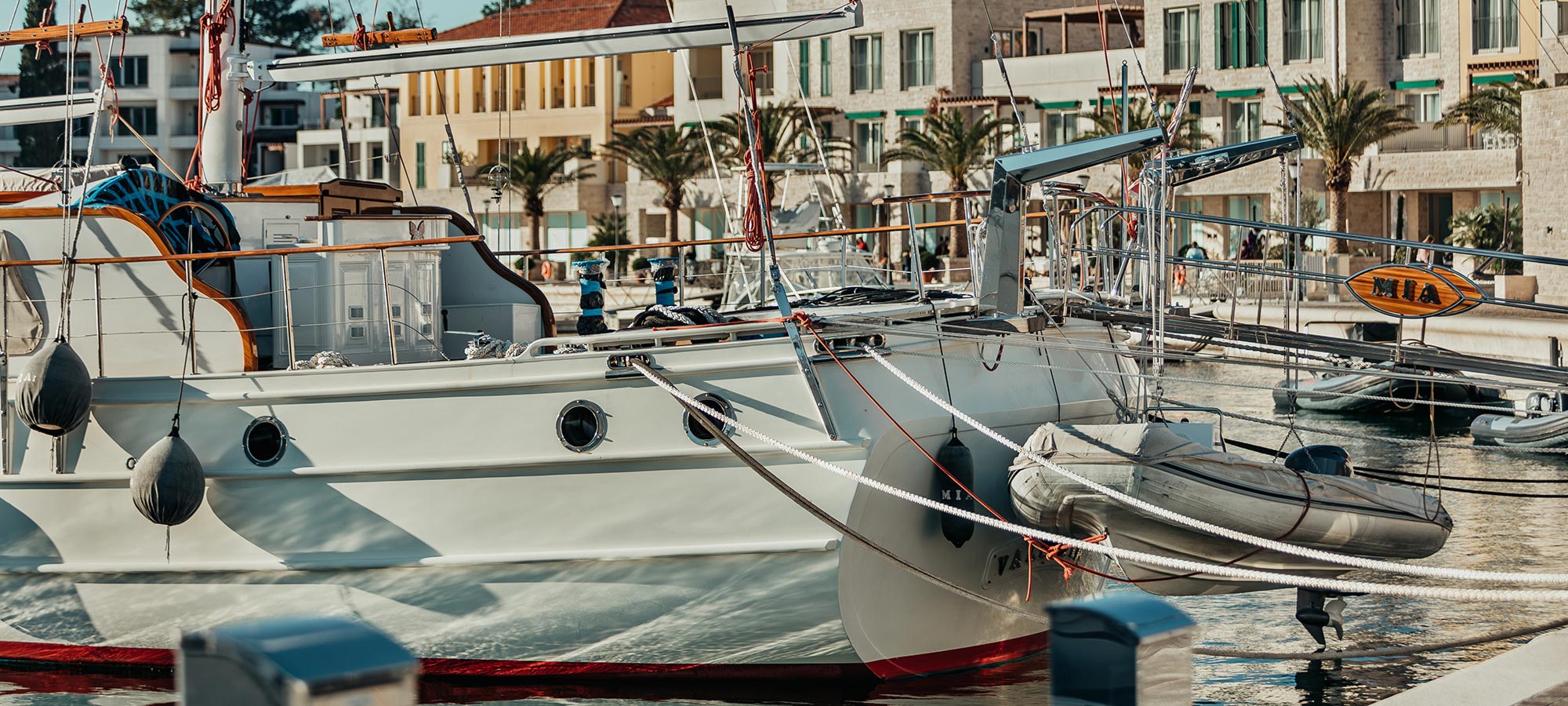 D-Marin Portonovi Marina Services
Capacities & Services
Marina Capacity
238 berths, up to 120m
Support for deep draft yachts
Fuel station (including duty free fuel supply)
Helipad access
General Services
24-hour check in/check out (Border Cross)
24-hour water supply
24-hour power supply (up to 630A)
24-hour dock assistance
Toilets and shower
Underground garage and car park
Wi-Fi connection
Security Services
24-hour security
24-hour CCTV
Technical Services
Black and grey water disposal
Oil waste disposal
Other services on demand
D-Marin Portonovi
Book Your Berth Now
The D-Marin Portonovi team are on-hand to handle all your berthing queries or to book your upcoming visit.
BOOK A BERTH
D-Marin Portonovi
New Marina Offers
FUEL STATION
Our Marina Fuel Station powered by Asmira & Co. is open! Duty free fuel is just one of the perks you may expect in D-Marin Portonovi marina. For all enquiries please contact fuel@asmiraco.com or +382 67 046 564
SPECIAL SUMMER OFFER
Explore Montenegrin waters with complimentary vignette. Special Summer offer for all private yachts up to 24m. Reserved weekly berth at D-Marin Portonovi marina will grant you free sailing permit in Montenegro for 7 days.
5 MONTHS WET + 7 MONTHS DRY
Make of the most of a new package by D Marin Portonovi which is available to owners of boats up to 12 metres. Berth your boat during the summer at our VIP finger docks and then, with the first sign of winter, take your boat out of the water with inclusive lifting, washing, engine winterization, dry stacking and lowering services through D-Marin Portonovi & the Yacht Refit Centre Marina Zelenika.
MARINA LOYALTY CARD
Marina Loyalty Card entitled to exclusive clients. Become our annual client and enrich your experiences in Portonovi Resort. For more details and benefits please contact marina@portonovi.com
HAPPY BERTH DAYS
All annual berth holders of D-Marin Portonovi with a pre-paid contract are entitled to "Happy Berth Days" campaign, which is 7 complimentary days berthing in each other D-Marin Marina.
SPECIAL WEEKLY OFFER
Yachts up to 12 metres that berth for a week receive 1 day free of charge, while yachts over 12m receive 2 days free of charge