Portonovi resort
Find your escape
Discover your own perfect hideaway with a vacation at Portonovi, surrounded by nature on the azure Adriatic coast.
A tranquil escape, far from the busy world. A place for adventures, shared with the people that matter most. Or an unforgettable family getaway, set among Montenegro's most spectacular landscape. Whatever kind of holiday you're dreaming of, Portonovi has something for you.
With a range of luxury villas and apartments available to rent, you can enjoy all that this vibrant village has to offer, from fine dining and drinking to sailing, shopping and indulgent spa treatments at the Chenot Espace Wellness Spa.
Rental Offers
Special Offers
Long stay
If Montenegro is a hidden gem, Portonovi is undoubtedly a diamond in its crown. A thriving, Mediterranean-style village boasts a truly international community from every part of the world.



Discover more
In Portonovi, the Riviera spirit is everywhere. Life here moves to the rhythms of the Mediterranean – relaxed, informal and spent in the company of family, friends and new acquaintances.
In Portonovi, the Riviera spirit is everywhere. Life here moves to the rhythms of the Mediterranean – relaxed, informal and spent in the company of family, friends and new acquaintances.
Boka Bay is one of Europe's most spectacular landscapes: a majestic natural harbour defined by its striking mountains, tranquil seas and open skies.
A holiday in Portonovi is your chance to experience all that this UNESCO World Heritage Region has to offer, whatever your interests. And, with world-class sailing tuition and rentals available at the on-site Portonovi marina, Europe's finest sailing is yours to enjoy.
Even on dry land, Boka Bay holds endless adventures. The ancient walled towns of Perast and Kotor are famed for their Medieval charms and charming bijou eateries – but they're far from the only attraction. Hiking, watersports, cycling and winter skiing are all close at hand, here on the Adriatic Riviera.
Luxury resort suites
Your personal hideaway
Comfort, luxury and space in abundance: take your pick from our collection of one-, two- and three-bed apartments.
We believe every visit to Portonovi should be unforgettable. That's why each one of our rental villas and apartments has been outfitted to the very highest standards, with your tranquillity and comfort front of mind.
Open spaces, quality materials and bold, contemporary design all come together to create a holiday home you'll never want to leave. All that, plus 24-hour concierge service, in-residence dining and a dedicated support team on-hand around the clock.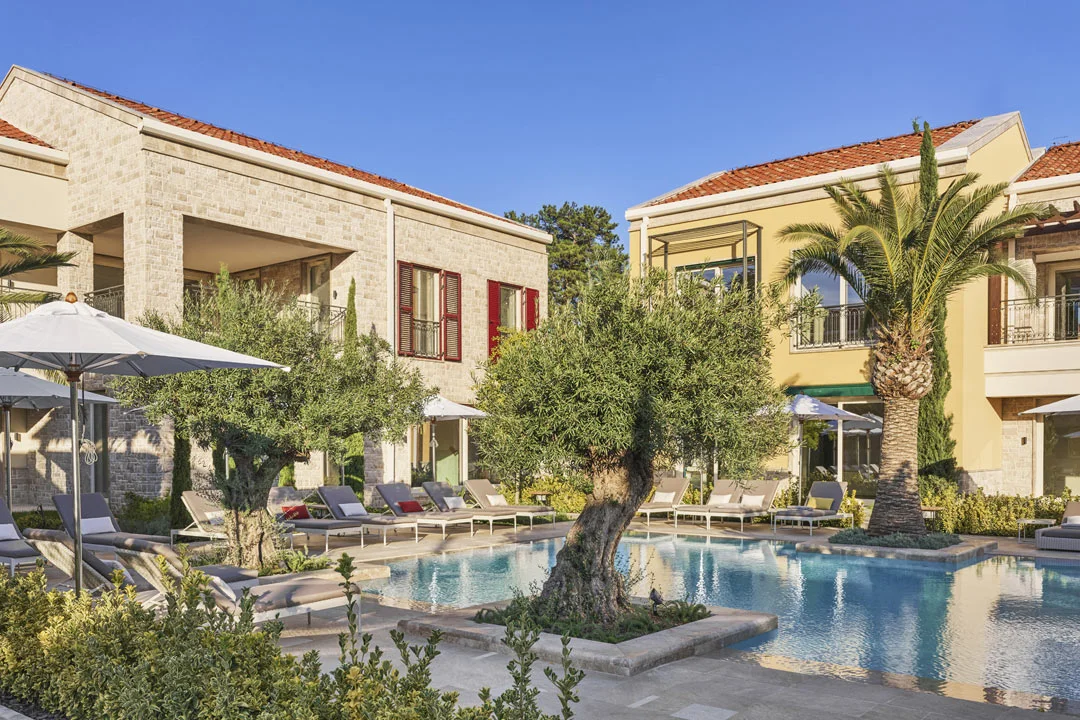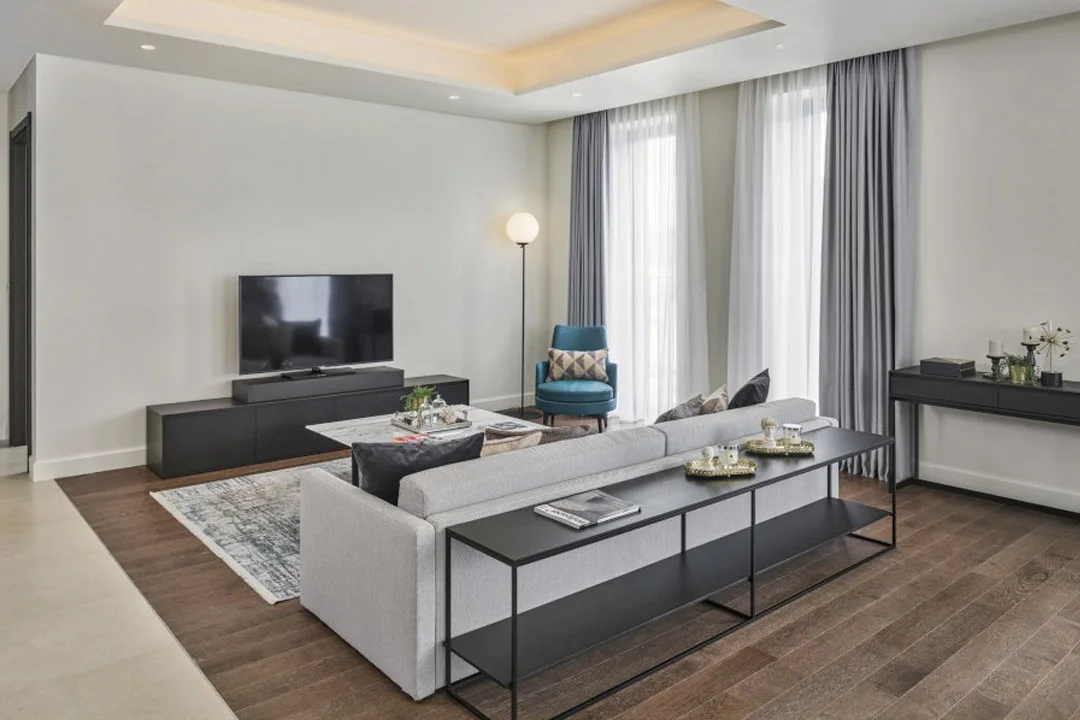 1 Bedroom / Sleeps 2
Kumbor Standard
Ideal for couples and solo travellers, the Kumbor Standard Suites are a homely hideaway in the heart of Portonovi.
Each suite features gorgeous village views, with comfortable living rooms, superbly equipped kitchens, and cosy underfloor heating. You'll find everything you need to enjoy your stay, a Nespresso coffee maker and access to our 24-hour concierge.
Make a Reservation
1 Bedroom / Sleeps 2
Mimosa Deluxe
Relax in total comfort in our luxury one-bedroom suites, featuring widescreen views across The Village or marina.
Each includes spacious sleeping and living areas, with underfloor heating throughout, as well as an outdoor balcony or terrace. Every flat comes with its own 55" television, Smart Home System and Digital Newspaper, perfect for relaxing after a long day on the water. Able to accommodate one to three adults, with convertible sofa beds in the living room.
Make a Reservation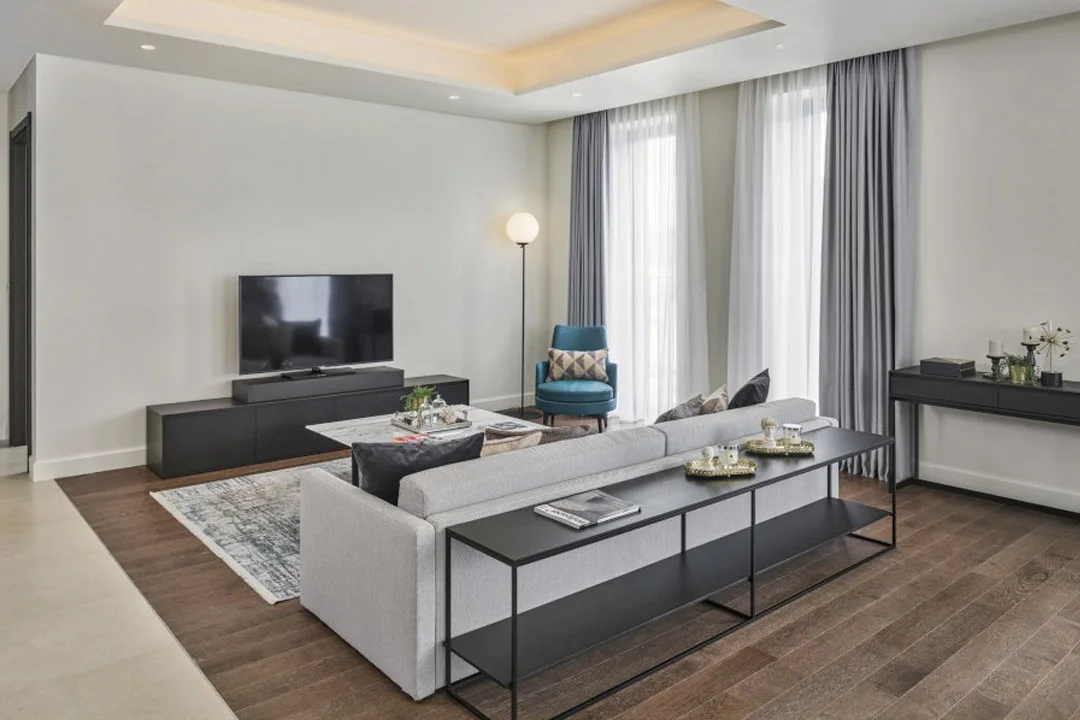 2 Bedroom / Sleeps 4
Bonaca Suite
With sizes up to a spacious 152m², the Bonaca Suites offer stylish modern living with ample room to relax and socialise. Bonaca means 'tranquil seas', and these deluxe rooms live up their name, with panoramic views out onto the marina and to the Adriatic beyond.
Each suite includes two bedrooms, with open-plan living and dining areas and a kitchen equipped with every modern amenity. Elegant and accommodating, they're ideal for small groups or families.
Make a reservation
3 Bedroom / Sleeps 6
Castelnuovo Suite
With three-bedrooms, the Castelnuovo Suites are the largest residences in our collection, perfect for groups, families and those looking for plenty of space.
Named for the Venetian word for nearby Herceg Novi, each features classic Mediterranean styling that pays tribute to that heritage. Natural materials lend a relaxed feel, while sea-facing windows let in plenty of light. Large open balconies, meanwhile, offer the perfect place for a lazy brunch or a sundowner cocktail.
Make a Reservation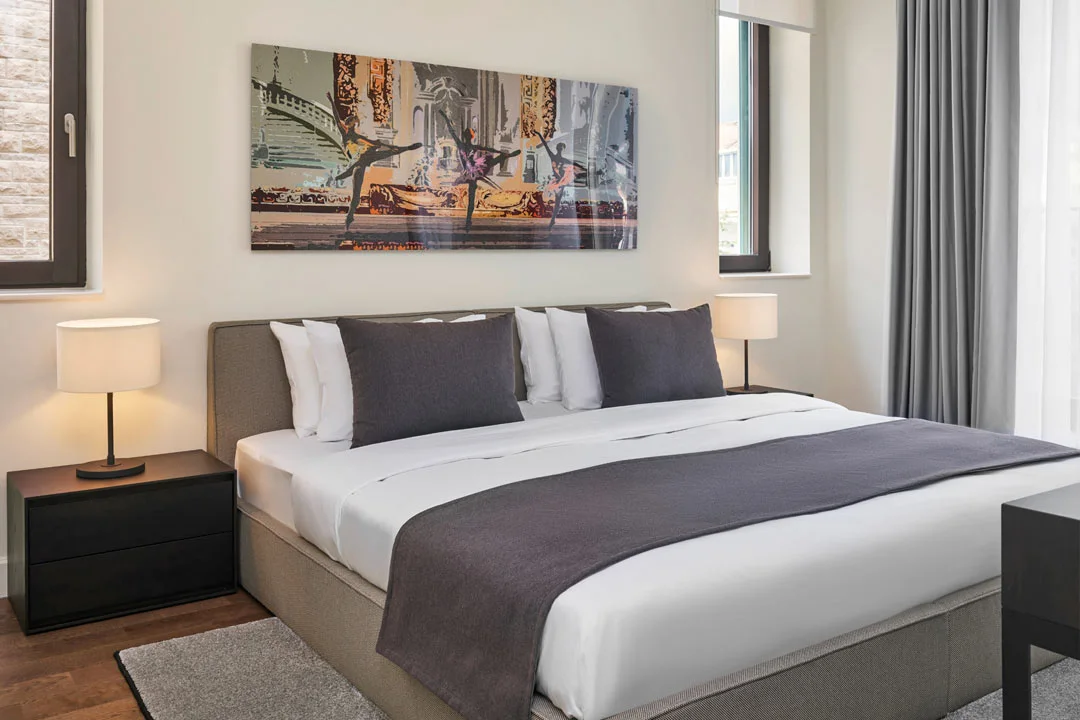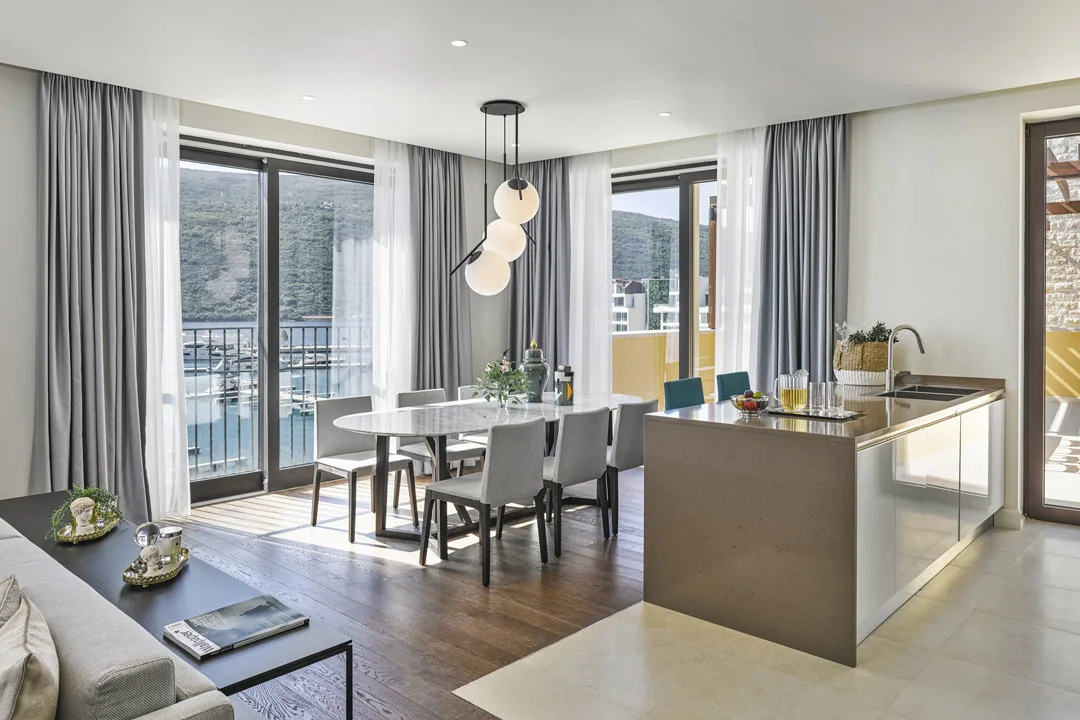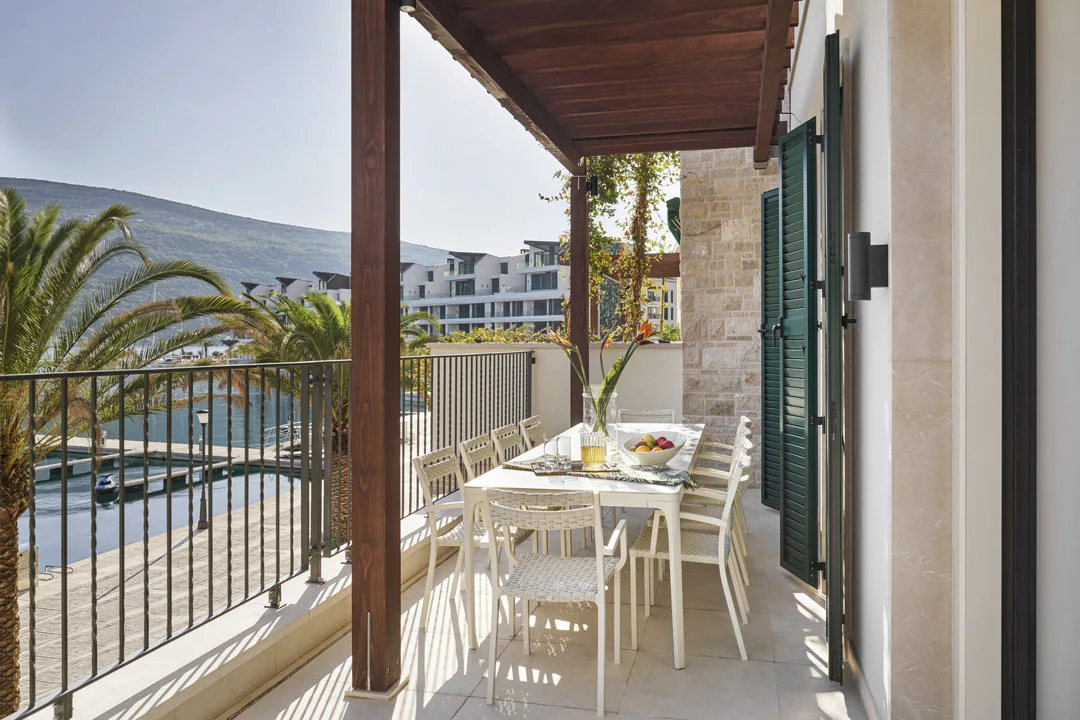 4 Bedroom / Sleeps 8
Portonovi Suite
Most people say that luxury means space – therefore, welcome to luxury! 4-bedroom Portonovi Suites are our largest and most luxurious accommodation option and range from 224 – 321 square meters of elegant, modern and comfortable space. Each Suite has four bedrooms, living & dining room including a well-equipped kitchen, and three or four bathrooms with bathtub and shower, depending on the suite.
Portonovi Suites have amazing private spacious balconies overlooking the stunning Boka Bay and Portonovi luxury superyacht Marina.
Make a Reservation
Portonovi Resort
Suite Services
For Your Convenience
- Rituals bathroom amenities
- Bathrobes
- Slippers
- Nespresso coffee maker
- Kettle
- Toaster
- Microwave
- Dishwasher
- 2-in-1 washer and dryer
- Digital newspaper
- WiFi
- Air conditioning
- Iron & Ironing board
- 24-hour lifestyle reception and concierge
For Your Comfort
- Blackout curtains
- Choice of pillows
- Hairdryer
- LCD 55" flat panel TV
- Smart Home System
- Underfloor heating
- Non-smoking
For Your Confidence
- Laptop-size safe
- Electronic smoke detector
- Audible alarms
- Electronic locks
Portonovi Resort
Resort Amenities
Beach Club
An exclusive beachfront club on our private sandy beach serves casual drinks and plates alongside one of Europe's most beautiful views. Treat yourself to a cocktail and drink in the vista as the sun slowly slips below the horizon. No need to book ahead, simply pay for entry on arrival.
Concierge
Our multi-lingual team of experienced concierges are available around the clock to help with your every need. From booking travel, to planning itineraries, hotel and restaurant reservations, they're here to help, whatever you require.
Wellbeing and Fitness
Care for your mind, body and soul with Portonovi's superb gym and fitness centre, tennis club and outdoor pools. Or, head to the Chenot Espace Wellness Centre for a restorative spa session with one of our highly trained technicians.
Private Dining
World-class cuisine served in the comfort of your own home. Our Private Dining service allows you to enjoy any of Portonovi's restaurants or cafés in exclusive surroundings. It's perfect for a special occasion.
Portonovi is more than a resort. This is a living, breathing village, complete with everything you need to enjoy a richer way of life.
Portonovi is more than a resort. This is a living, breathing village, complete with everything you need to enjoy a richer way of life.